David Schawarzmeier, An Investment in Future Generations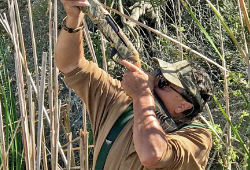 Feather Society member David Schwarzmeier thought long and hard about making Ducks Unlimited a part of his estate planning. As a successful investment planner, he knew how to examine his options.
"I thought about a variety of organizations that might benefit, but ultimately I felt confident that Ducks Unlimited is organized in such a manner that the funds would not be abused nor directed in a way I had not intended," David explains.
Splitting his time between Montana and Florida, David made a pit stop between the two to visit Managing Director of Gift Planning Chris Cole at DU's National Headquarters in Memphis, Tennessee. "He came to us, and it was clear when he walked in the door that he had carefully considered his options and determined Ducks Unlimited was the best choice for his generous gift," Chris recalls.
David realized he is happiest when he is outdoors, generally on horseback or hunting behind his dogs, and he wanted his gift to help others have those same experiences. Knowing that he has contributed to conservation so that future generations can enjoy these same gifts gives him great satisfaction.
"I wish more people understood that Ducks Unlimited goes way beyond maintaining wetlands solely for bird hunting," David says. "More people need to understand how important wetlands are to our drinking water, to other wildlife, and to our enjoyment of the outdoors."
As a part-time resident of Fort Myers, Florida, David is especially passionate about conservation in the Everglades. Historical efforts to drain this important area led to significant hydrologic alteration. Those changes and management regimes are jeopardizing this key habitat for a myriad of wildlife species. After David leaves Florida, he spends the rest of the year in Montana, which gives him a continental perspective of waterfowl habitat.
David sees the challenges many people face when it comes to accessing outdoor spaces for recreation. "DU is one of the few groups establishing more places for public access, and it would be nice to see the members getting credit for what's being done for the benefit of everyone," he says.
David's parents, who are still very active and in their mid-nineties, have been members of Ducks Unlimited since he was a child. Their love of the outdoors and support of the organization has inspired David to carry on this important family tradition.
"One of my earliest memories of the outdoors is following my dad and our English setter, Bo, through the brush. I was carrying my dad's original Daisy BB gun," David recalls with a smile.
Though he realizes that many young people are separated from the outdoors, and growing human populations are putting an ever-increasing strain on wetlands, David has hope for the future. "Millennials appear to be concerned with environmental issues," he says. "Hopefully our wetlands remain a top priority. We need to maintain focus on restoring what we have lost so we can provide a better tomorrow. I feel confident that with the help of Ducks Unlimited members and sponsors, we will leave a healthy ecosystem for our descendants."