A Lifetime of Giving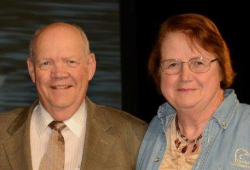 Peter Jackson has been hunting for as long as he can remember and still has his original Ducks Unlimited membership card from the early 1980s. He and his late wife, Jo Anne, worked passionately as DU volunteers for many years while generously supporting the organization's mission. The Jacksons not only volunteered for local chapters but also served on DU's National Youth and Education and Youth Waterfowl Recruitment Committees.
Peter and Jo Anne lovingly maintained a 275-acre farm just outside Buffalo, New York, known as Scotchwater Farm. The land has produced oats and hay and has many pasture areas for their Hereford beef cattle and horse breeding operations. The property also boasts several ponds that have been improved by Ducks Unlimited to provide habitat for waterfowl.
"I first came to Ducks Unlimited in 1976 when our vet asked me to attend an event that many of my friends in the dog, cow, and horse business would be attending," Peter recalls. "Back then DU had just begun marketing their 'save an acre of land for $1' campaign, which no one else was doing at the time." That concept resonated with Peter and Jo Anne, who were committed to farmland protection efforts in their hometown of Clarence. In fact, Jo Anne helped draw up the town's farmland protection plan.
Together, the Jacksons were recognized as the 2013 New York DU Conservationists of the Year. Today, Peter continues his support of the organization as a President's Council member since 2011, a Grand Slam Life Sponsor, and a Legacy and Diamond Feather Society member.
"I named DU as a beneficiary of my estate because I think it's the best organization a person can donate to," Peter explains. "I give to DU because we do it all-biology, research, science, and policy work. We do our research and we are the authority on wetlands conservation."
DU Director of Gift Planning Sarah McCallum is inspired by the Jacksons' generosity and passion. "Peter and Jo Anne's contributions to our organization include nearly 70 years of combined volunteer service with the Genesee County chapter and annual financial support that puts them among the top one percent of DU supporters nationwide," she says. "They have exemplified what the greatest generation can do and has done for Ducks Unlimited."