Gail and Lyle Johnson: A Legacy that Continues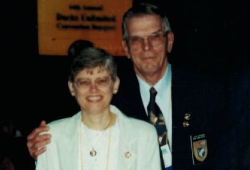 The Johnson's formed the first Ducks Unlimited Chapter in Orleans County New York state in 1979. Years later, Lyle served as New York DU state chairman while employed full-time at Kodak and Gail served as secretary, while also teaching social studies at junior high school.
In 2010, Gail and Lyle were the recipients of the New York Conservationists of the Year award. Although Lyle passed away in 2012, DU meant so much to the Johnson's over the course of their 42-year marriage, and they truly enjoyed the number of friends they made, and pride shared in a job well done.
Despite not being a hunter, Gail was hooked on DU through Lyle's involvement and continues to give today because she appreciates DU's singleness of purpose, can-do spirit and wanted to leave a legacy of which she can be proud.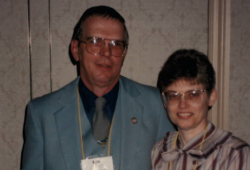 "Lyle and I were founding members of the Feather Society in 1994," says Gail. "We didn't even have to think about it. We had always known that was where our money was going to go, so when we heard about it, we signed right up."
Johnson particularly appreciated the idea of an endowment. "I was talking to Sarah McCallum, Director of Gift Planning, and she described something where you didn't touch the principal, but used the interest instead, and I thought 'That's it, that's me. That's how we saved this money, so it makes sense."
Gail continues to carry on the Johnson legacy of giving and enjoys attending national conventions and local dinners with her sister Ruth. "DU is like family to me and I will continue to support DU for as long as I can."