Dee Bailey's Retained Life Estate with Charitable Gift Annuity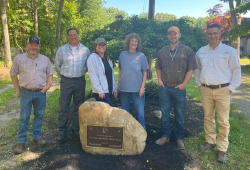 Adjacent to the Tuckahoe River in southern New Jersey, Dian 'Dee' Bailey's 160-acre property is a mix of wetlands, woods and remnants of an old Christmas tree farm.
It's her home, where she and her late husband Robert "Rock" Bailey spent 50 years walking, hunting and wildlife watching. The land features excellent wetland habitat, which is located south of Tuckahoe Wildlife Management Area and north of Cape May Wildlife Refuge.
"Rock loved this land and enjoyed hunting turkeys and deer in the fall; we discussed leaving it to Ducks Unlimited and I feel that is the right thing to do because I believe in DU's mission."
Dee wanted this land to remain a special place for anyone who appreciates the outdoors. She has generously donated her land to Ducks Unlimited through a life estate reserve in memory of her husband. A cairn will be placed on the site with Rock's name on it.
A Ducks Unlimited member who attends the Cape May Ducks Unlimited dinner, Dee is a retired school teacher who is happy to be able to continue using her land. In the past, she has trained two golden retrievers and Chesapeake Bay Retriever on the property. Now she has one Golden Retriever, Tuukka, named after the goalie for the Boston Bruins, that she trains and travels to field trials and hunt tests. Many of Dee's dogs have won awards for their skills in the field.
Back at home, wild turkeys visit her bird feeders and countless migratory birds make their way through her property on their way to the near Tuckahoe and Cape May Wildlife Refuges. Dee will continue allow hunters to hunt deer on her property while leaving an incredible conservation legacy for the ducks. Dee appreciates the sizable tax deduction for her life estate gift but is more satisfied the land will be a legacy of conservation for future generations.
"A life estate reserve legacy gift like Dee's helps Ducks Unlimited continue our vital conservation mission and work. Dee is a conservation champion whose legacy for wildlife and waterfowl habitat will endure for generations to come," said Sarah McCallum, senior director of gift planning for DU's Great Lakes Region.
If you would like more information on life estate or other land gifts, please visit www.ducksgift.org or contact a member of DU's gift planning team in your region.