Passion for Hunting Inspires Lasting Gift through DU Feather Society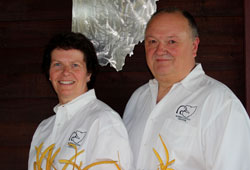 Once you set foot in a duck blind, you are probably already hooked. Duck hunting is not just a sport. It gets into your blood and becomes part of what defines you. Though a committed deer hunter from the time he began pursuing whitetails alongside his father in his home state of New York, Bill Ebert became a quick convert to waterfowling.
"My wife, Deb, loves to tell the story of how I hunted the deer opener just a few days after we were married—that's how dedicated to the sport I was," Bill recalls. "But then a good friend told me to try duck hunting. He said I'd forget all about those deer, and he was right!"
That fateful advice led Bill to become an avid waterfowler, but he and Deb didn't become involved with Ducks Unlimited until 1992, when they attended the DU national convention in Toronto, Ontario. At the request of a regional director, Bill agreed to join a local committee. Then, just as quickly as he had settled into the duck blind, Bill found his home with DU and took on the role of area chairman.
Today, the Eberts continue to serve DU in their current home of Blanchester, Ohio. Bill is currently the state's special projects chair and previously served as state treasurer and a district chairman. He has also chaired two state convention committees and the state conservation committee. For all his creative fundraising work, Bill was honored with DU's prestigious Wings of Innovation award.
Bill and Deb have also made Ducks Unlimited part of their long-term financial plan. They recently made a Grand Slam Life Sponsor commitment and joined DU's Feather Society by setting up a joint survivorship annuity that will eventually pass to DU.
"My mission is to bolster the Feather Society," Bill says. "It is simply a good investment, for us and for the ducks. You can have heart and desire, but without long-term funding, DU's work on the ground can't be accomplished. That needs to change. I'd love to see 50 percent of our wetlands restored in the next 50 years."