Many Ways to Help the Ducks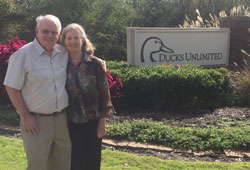 Ducks Unlimited is unique for the variety of ways it offers donors to support wildlife. It is also unique for the passion those donors have for the organization and their drive to give back through as many avenues as possible. Longtime DU supporters Gary and Nancy Stuart, of Papillion, Nebraska, are great examples of this dedication. The Stuarts not only want their contributions and volunteer work to achieve as much as possible for wetlands and waterfowl, but also are always looking for new ways to support DU's mission.
As happens with so many DU supporters, Gary's fervor for the cause started in the duck blind. "I started hunting with my father and uncle, but when waterfowl populations fell to very low levels, they stopped hunting," Gary recalls. Instead of quitting, however, Gary decided to take action by helping establish the Papillion DU chapter and becoming its chairman.
"I very much enjoy soliciting donations for our DU banquet," Gary says. "The feeling I get from obtaining a good donation that I know will help the ducks is very special."
Nancy, retired after 30 years as an administrative assistant at Deere Harvester, has been the steward behind the couple's philanthropy. Taking advantage of the cumulative giving option, the Stuarts became Life Sponsors in 2009. Using qualified distributions from their IRAs, they completed new pledges, becoming Grand Slam Life Sponsors and then Diamond Sponsors in Perpetuity. Gary and Nancy's philanthropy supports wetlands and waterfowl conservation in Mexico and Canada, and their most recent gifts benefit the Preserve Our Prairies Initiative under the Rescue Our Wetlands campaign. The Stuarts are also Platinum Feather Society members thanks to a joint planned gift.
"I really appreciate the number of people you meet through DU and how much we have in common," Gary says. "Even Nancy's and my work with drahthaars [German wirehaired pointers] has been enhanced by the great people we have met through DU. All the while we have given back to the sport and to conservation. That is very important to us."
At the heart of the Stuarts' commitment to giving is a very simple but timeless idea: "We have been through some bad years and good years, but we have always seen in the outdoors God's creation in all its glory," Nancy explains. "We need to protect that."