IRA Charitable Rollover Opportunity Yields More Wetlands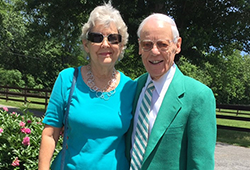 Dr. Richard Holman grew up hunting, but his passion for waterfowling began on a hunting trip to Nebraska later in life. "It was like something out of a hunter's dream, watching 10,000 ducks coming into the lake," Richard says. "It was indescribable."
Richard and his wife, Janet, are longtime Ducks Unlimited donors, but decided a few years ago that they had reached a point in their lives at which they could do more. The Denver residents are now DU Sponsors in Perpetuity.
The Holmans began with a contribution to DU through an individual retirement account (IRA) charitable rollover. The rollover, a provision enacted by Congress, allows each individual who has reached the age of 70 1/2 to donate up to $100,000 to qualified charitable organizations directly from their IRA. That gift amount would not be taxable.
"Using the IRA charitable rollover, you can reduce the amount of your taxable income," said Byron Liles, DU director of gift planning. "If you are 70 1/2 and have an IRA, federal law mandates that you take out a Required Minimum Distribution (RMD) every year. If you direct that RMD, or a portion of it, to Ducks Unlimited, it does not add to your taxable income."
Janet says that she and Richard are passionate about conservation, especially the need for education and outreach, which is a focus of their current gift to Ducks Unlimited, along with the Heartland Heritage and Habitat Initiative. She says the IRA charitable rollover is a great way to contribute to DU's conservation work.
"Contributing the same amount of money costs you less," Janet explains. "It is advantageous to do this because the IRA gift does not add to your adjusted gross income."
For more information regarding this tax-savvy opportunity, contact Chris Cole at 901-758-3763 or
ccole@ducks.org
, or Sarah McCallum at 734-623-2031 or
smccallum@ducks.org
.