Jean Laughlin Carries On Family Love for Waterfowl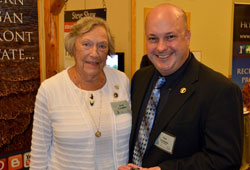 A longtime environmental enthusiast, Jean Laughlin grew up with waterfowl and continues to show her support for Ducks Unlimited.
Her father, Russ Bengel, was considered by many to be the father of Ducks Unlimited in Michigan. "He was so active in it that he got us started," she said. "He taught us to enjoy nature and the great outdoors. We spent most of our summers in northern Michigan." For Laughlin, DU represents a way of life. She and her late husband, Sheldon, backed Ducks Unlimited for decades.
"I like nature, and I know the ducks need marshes," she added.
Her generosity stretches beyond Ducks Unlimited. She has been instrumental in promoting the Michigan Wildlife Conservancy, established by her father.
"The purpose is to get kids into the outdoors, and away from cell phones," she said. "Sometimes they don't realize what's out there. When we were kids we were always outside."
Laughlin stays busy attending Michigan state conventions, DU fundraisers and other charitable functions.
"From volunteering on a committee for the local DU chapter, sponsoring events and including DU in her estate plan, Jean is a conservation champion whose legacy for wildlife and waterfowl habitat will endure for generations to come," said Sarah McCallum, director of gift planning for DU's Great Lakes/Atlantic Regional Office.