Financially Savvy: Joseph Mazon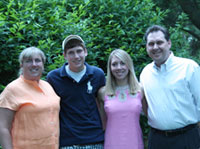 Naming Ducks Unlimited the beneficiary on a life insurance policy can help you create a conservation legacy for nature that truly reflects your wishes and values. Ducks Unlimited Major Donor Joseph Mazon found that by naming Ducks Unlimited as a beneficiary on the Life Insurance policy, he could make a commitment now that supports conservation in the future. He also enjoyed current tax benefits by also naming DU as the policy owner.

Joe Mazon enjoys being financially savvy - and helping others get there too. The journey that began simply with a friend's invitation to attend a DU banquet eventually led him to volunteer both locally as treasurer of a New Jersey chapter and nationally for both DU Canada and DU, Inc. boards.

It was past president of Ducks Unlimited, Bruce Lewis's brother-in-law, who reengaged Joe with Ducks Unlimited. "He said DU holds the highest return on investment and operates at the lowest cost," Joe recalled.

Joe likes Ducks Unlimited's science-based approach - protecting waterfowl habitat and the corridors that connect wintering and breeding grounds across the continent. He named DU as the owner and beneficiary on the life insurance policy.

He's especially enthusiastic about how others can make a similar gift ensuring protected landscapes affordably. "I have two children, one in college and the other finishing high school. This was a way for me to affordably give."

He puts his philosophy into action: When he's not working long hours at his career with MetLife in NJ, you'll find him volunteering for Ducks Unlimited. Sharing his financial expertise is critical to the overall long-term financial health of Ducks Unlimited.

"Serving as a DU board member is great. You are a part of a greater good, surrounded by people with similar passions and interests," Joe says. "Over the past 30 years I have seen natural places destroyed and urban sprawl take over. It's important to be a part of the solution and a part of DU's mission."

If you would like information on the ways you can also leave a legacy of conservation, contact Chris Cole, Managing Director, Gift Planning at ccole@ducks.org or 901-758-3763 or visit our gift planning website www.ducksgift.org.