Passionate About the Prairies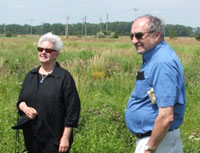 Charlotte Adelman and Bernard L. Schwartz of Wilmette, Illinois, committed $200,000 to Ducks Unlimited to the Mola Prairie and Wetland Preserve in Illinois. This project is a joint effort between DU and the U.S. Forest Service restoring 60 acres of high quality prairie and wetland habitat. Funding for this project was also provided by CorLands, a Chicago based non-profit conservation organization.

"We are very fortunate to have people like Charlotte and Bernard who recognize the beauty and value of native prairies to both wildlife and people," said Eric Schenck, Regional Biologist for Ducks Unlimited. "With their support, more projects like this will be possible in the future."

The couple was recognized by Ducks Unlimited at a dedication ceremony for the Mola Prairie and Wetland Preserve.

If you would like information on the ways you can also leave a legacy of conservation, contact Chris Cole, Managing Director, Gift Planning at ccole@ducks.org or 901-758-3763 or visit our gift planning website www.ducksgift.org.