Another "Feather" for DU's Cap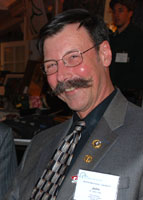 Ducks Unlimited volunteer and veterinarian Dr. John Cole joined the Feather Society as a Diamond Feather Sponsor for his generous planned estate gift.

"A few years ago I heard a great quote that summarizes my motivation to include Ducks Unlimited in the planning of my estate: 'We are all takers. It is now time to give back,'" said Cole. "It was this realization that still motivates me to continue to do what I can to help keep the birds flying."

"I could no longer deny my involvement was critical for future generations to enjoy what has given me such satisfaction and enjoyment," said Cole.

Cole's hunting prowess extends beyond waterfowl. He is a Grand Slam Club Orvis member for the feat of taking all four recognized varieties of North America's wild sheep: Dall, Stone, Rocky Mountain bighorn, and desert bighorn. It was one of these expeditions that Cole recounts as his most memorable hunting excursion. It "was four days after 9/11 happened. I flew from New York to British Columbia for a 13-day expedition to hunt Stone's sheep. We left base-camp before sunrise on horses for about a three-hour trail ride before heading further up into the mountains on foot for an additional two to three hours, stopping every so often to scan for sheep. On the final day of the trip, I shot a beautiful Stone's sheep." Cole's accomplishment is recognized as one of the great feats in North American hunting as it is a pursuit demanding physical fitness and a significant investment of time and money to reach the far-flung game fields of the west. Achieving this challenge today remains formidable as permits are scarce and demand high. This kind of accomplishment takes a single-minded dedication spanning decades of effort and tough hunting.

Ducks Unlimited is pleased to partner with Dr. Cole to protect waterfowl habitat and conservation efforts in the New York region and throughout North America. For additional information about how you can leave a similar legacy, contact Byron Liles, Director of Gift Planning at bliles@ducks.org or 901-758-3876.

For additional information about how you can leave a similar legacy, contact Chris Cole, Managing Director, Gift Planning at ccole@ducks.org or 901-758-3763.

Click Here to review sample bequest language.