A Friend to the Ducks and His Labs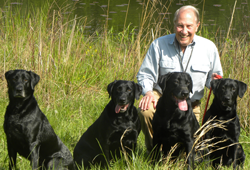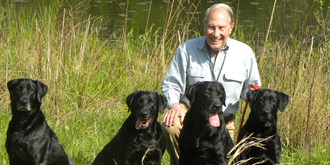 Clarence Klaus, Jr. of Pennsylvania is one of more than 5,600 Ducks Unlimited members who shared a 75th birthday with Ducks Unlimited. Clarence is also one of 6,000 Ducks Unlimited supporters who chose to leave a conservation legacy by putting Ducks Unlimited in his estate plan.

When asked why he cares about conservation, Clarence recalls, "I spent a lot of my childhood at my grandparents' farms in southern Illinois and fell in love with the phenomena of nature. I understand the importance of acquiring and conserving wetlands for all things, humans included, and I want to do what I can. A Feather Society gift through my estate is the right thing to do. I encourage others to participate, as well."

Clarence Klaus is an architect who is passionate about his four black Labradors: Pepper, Burton, Pearl and Joy. Together Clarence and his four-legged friends act as a team -- working together and competing across the nation. In 1994, Clarence and his lab Ida won first place at the first annual Ducks Unlimited Continental Waterfowl Retriever Classic National Championship held at Borderline Plantation in Thomasville, Georgia. Recently the son of his lab Burton, and brother to his female lab Joy, was killed while on patrol with the British marines in Afghanistan. He had stepped on a pressure plate and in the process saved many lives. "I'm not embarrassed to say I still cry when I think about it," Clarence recalls. "My labs like to be challenged and enjoy working hard. But when it comes to retrieving ducks or training, it's all about having fun. They bring me a lot of joy."

Today, Clarence Klaus is doing his part to keep the ducks flying by including Ducks Unlimited in his estate plan. Join Klaus, as his friends like to call him, and become a member of a special group of visionary supporters who have stood up for the future of waterfowl and the natural world.

If you would like information on the ways you can also leave a legacy of conservation, contact Chris Cole, Managing Director, Gift Planning at ccole@ducks.org or 901-758-3763.