Memphis Volunteer Makes Lasting Gift to the Ducks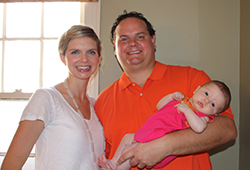 Eleven-year Tennessee DU volunteer Tal Goldsby and his wife, Natalie, have spent countless hours together outdoors. Their passion for waterfowl and conservation has been a mainstay throughout their relationship and has influenced many of their long-term financial decisions.

Tal is a longtime Memphis DU committee member and the mastermind behind the annual Pigs in Flight barbecue competition, which kicked off in 2010. The event attracts about 50 cooking teams and is sanctioned by the Memphis Barbecue Network. The Pigs in Flight event has been a huge success for the ducks, but Tal and Natalie didn't want to stop there. Last year, the couple became DU Gold Feather Society members. This allows them to leverage smaller tax-deductible gifts into a much larger gift for DU down the road.

Making DU the owner and beneficiary of a whole life insurance policy is a great way to ensure the perpetuation of DU's conservation mission. Once the Goldsbys put DU in charge, their premium payments became tax-deductible gifts to the ducks.

Tal and Natalie were also very interested in participating in the 75th Anniversary Endowment Challenge, and were quick to direct their contributions toward DU's permanently restricted endowment fund to benefit the organization in perpetuity.

If you would like information on the ways you can also leave a legacy of conservation, contact Chris Cole, Managing Director, Gift Planning at ccole@ducks.org or 901-758-3763.