Hunting is a Way of Life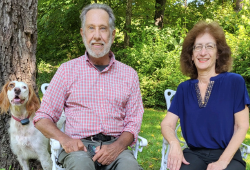 For Dr. Gary and Janis Grover, hunting has been a way of life. In Gary's family, the tradition goes back several generations with duck and woodcock hunting done in New Jersey, his ancestral home. "Janis and I feel strongly about giving back after so many years in the field. We appreciate DU's mission as it conserves wetlands and even uplands that benefit all wildlife," said Gary.
For Janis, coming from a more suburban background, her first real exposure to outdoor life was floating for ducks in a battered canoe with Gary in college. That experience has lead to 40 years travelling from North Dakota to Argentina, Scotland to New Mexico, Canada to Louisiana and finding a way to enjoy being hot, cold, wet and dry looking for wildlife.
The Grover's were fortunate to have successful careers which included travelling to over 30 countries engaging with international partners in agriculture, commerce, education and medicine. As a result, they now have the opportunity to blend together these diverse interests.
"Joining the Feather Society and making a planned gift through my retirement plan was simple and easy to do," said Gary. The Grover's recently joined the President's Council, have been involved with their local chapter and attended Ducks University. They genuinely care about the resource and have been generous partners and supporters.
When asked why making a legacy gift is important, the Grover's both agree that "Ducks Unlimited's mission enables us to invest in conservation so that future generations can benefit." DU is our favorite charity, they go out of their way to get us involved with different activities and we feel we are part of a family."