A Different Way to Give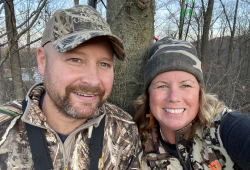 In 2005, Brian and a group of volunteers helped to re-establish the Henry County Chapter in Ohio.
Since then, the chapter has been recognized in Top 10 repeatedly.
Brian currently works for GM and is the incoming state chair for Ohio. "When I was a kid, I grew up with DU, my dad would always attend deer and duck season openers, but he didn't hunt." "My uncles introduced me to DU and that's how I became involved." said Brian.
In early March 2020, Brian was thinking of a way to get involved with the Feather Society, DU's legacy gift program. He had a gun collection and decided that rather than make a monetary gift, he would gift his collection.
Brian provided DU with an inventory, including a photo and the value of each gun. He then made a provision in his will that the guns would be donated to DU. It was very simple and straightforward and a different way to provide assets to DU through his estate.