Barb Sizer - Where There's a Will, There's a Way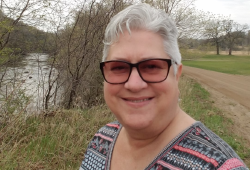 Barb Sizer has grown "up and older" in southern Minnesota. "My involvement with DU began in the early 1990's. I went to a ladies' event and was hooked. I was so impressed with so many aspects from the fun to the merchandise, and of course, the cause." After attending a few local events, Barb attended the 1995 MN DU state convention in St. Cloud, MN. She's only missed a few conventions since then.
Barb always loved the outdoors and enjoys taking photographs of wildlife. Most of her shots are now through a camera, rather than a gun, but she loves it just the same. "I've been fortunate to be surrounded by the elite in local conservation - Nicollet and Fox Lake Conservation Clubs, DU's southern region's outstanding people, our state's leadership and the biologists and conservation staff," says Barb
Over the years, Barb read DU magazine articles with stories on members can give their farm, land or home as legacy gifts to DU. Barb always thought those types of gifts were "above her pay grade!"
Barb knows it's amazing how joining forces with DU can make a big impact. That's why she made a Feather Society pledge and named Ducks Unlimited as a beneficiary of her Will. "Although I may be different in not having children to "pass" things to, I do have lots of family. My planned gift to DU will be multiplied many times over and come back to them for generations through cleaner water, abundant wildlife, grasslands and wetlands that will enrich their lives much more than a few dollars willed to them. I truly believe that." said Barb.