Life Insurance Policy for the Ducks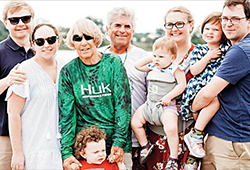 A familiar face to many at Ducks Unlimited, Chip Heaps has contributed to the organization as a volunteer and staff member for decades. He began volunteering in 1983 and recently retired after a 32-year career with DU.
Chip and his wife, Patty, have been faithful and generous donors to DU as Major Sponsors and members of the Feather Society. "Patty and I joined the Feather Society, DU's giving level for estate gifts, in its early days because we felt it was the right thing to do for the ducks," Chip said. "We also wanted to help the Feather Society grow as a program and thought others might follow our lead." They certainly did. Chip's home state of Maryland is one of the top-performing states for total number of Feather Society donors.
Patty and Chip funded a whole life insurance policy with DU named as the owner-beneficiary. This was a way for them to make a significant legacy gift to DU for a nominal investment. This life insurance policy cost the Heaps a tax-deductible investment of less than $2,500 and generated a Feather Society gift of $250,000 for Ducks Unlimited.
Chip continues to work for the ducks. In July, he took on the volunteer role of Maryland State Campaign Chairman and will continue his work with Major Sponsors and the Major Sponsor Program.