Make a Major Gift with Minimal Effort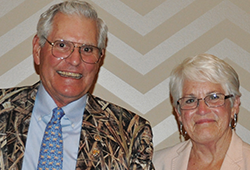 Longtime volunteers and major sponsors Jerry and Bobbi Harris are using charitable contributions from their IRA to support the ducks. In addition to providing vital financial support to Ducks Unlimited, their decision provides important tax benefits.
"We look hard at the charities we support to make sure they're good stewards of our gifts. Ducks Unlimited is the best in turning charitable dollars into productive wetland habitat."
Jerry and Bobbi have made annual contributions to Ducks Unlimited and several other charities for many years. "The first IRA rollover gift Bobbi and I made was in 2012. At that time, Congress had not yet made the charitable rollover provision permanent but you could make a gift and it would be retroactive."
To set up his first gift, Jerry called the organization that held his IRA and asked them to issue a check payable to Ducks Unlimited. He requested that it be mailed directly to his home so that he could send it to Ducks Unlimited and receive credit for the gift. "I sent the check for processing directly to headquarters in Memphis and that was it." Now that Congress has made the charitable rollover option permanent, making a gift is even easier than before.
"At our age, we are required to take minimum distributions from our IRA each year," Jerry explained. "Those distributions could be taxed as income, but by donating them to Ducks Unlimited, we don't pay income tax and we don't pay any tax on the appreciated assets."
"I've been a longtime waterfowl hunter and feel the need to give back to the resource for the enjoyment I've had," Jerry said. "Bobbi and I are also very appreciative of the habitat where we live on the eastern shore of Maryland." Through conservation easements and improvements to the habitat, Ducks Unlimited's recent efforts have helped stabilize wetland acreage loss in Maryland through protection, restoration, and enhancement.
Please click here to download our IRA Rollover transfer instructions.