Ohio Couple is Leading a Legacy for Great Lakes Waterfowl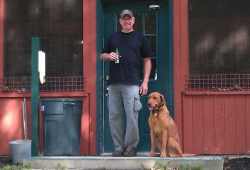 Hunting season usually finds John Cleek and his dedicated Labrador retriever, Van, pursuing waterfowl and upland game birds throughout Ohio, on the marshes around Mitchell's Bay and Walpole Island on the eastern shore of Lake St. Clair. John's love of waterfowl hunting began not far from his favorite hunting spot, when he was introduced to the sport on Lake Erie's Magee Marsh by childhood friend Andy Keener and his father, James. Later, John and his own father experienced their first duck hunt together in the same spot, over decoys borrowed from the Keeners. For John, that was the start of many hunting adventures and a lifelong commitment to conservation.
John joined Ducks Unlimited in 2006 after attending a local event hosted by the Licking County, Ohio, chapter. "I'm not much of an event person, but I have always admired and appreciated the work DU does," John says. "Last fall I received an invitation to attend the annual Ohio Partnership Hunt, and it seemed like a good opportunity to get to know DU a little better. During the hunt I enjoyed meeting new people, telling old hunting stories, and sharing experiences with friends and colleagues."
He was also impressed by the strength and breadth of DU's conservation programs. With a background in community development, John helps cities and
counties across Ohio improve housing and public infrastructure. This work often hinges on obtaining federal grants to pay for housing and economic and community development projects, much like DU's work relies on grants from federal programs such as the North American Wetlands Conservation Act.
In 2013 John and his wife, Jackie, attended their first Ohio DU state convention. During the event's major donor reception, John and Jackie were presented with Platinum Feather Society pins for including Ducks Unlimited in their estate plans. The Cleeks' deferred gift will help conserve and protect wetlands in Ohio and across the Great Lakes watershed, providing important migration, breeding, and wintering habitats for waterfowl.
"We're honored that John and Jackie have chosen Ducks Unlimited to join the Feather Society," said Sarah McCallum, senior director of gift planning. "the Cleeks are leading by example, have entrusted DU to carry on their conservation legacy and we couldn't be more grateful."